---
Favourite Sunday Traditions
Written by yemisorisawayi on March 14, 2021
Now Playing:
Every Sunday, I remember when I was home, living with my parents.
For me it's the Sunday traditions in my home that makes it almost impossible to forget the Sunday feel.
We wake up, get dressed for church and most times still continue in the car (you would understand if your house was a girl's hostel like mine?)
We were never really on time for church, then after Church on some sundays we would go visit my grandparents, on some we would just go back home. But regardless of where we went from church, 3 things were always constant. Sunday afternoon rice, the nap ? and listening to the radio under the Guava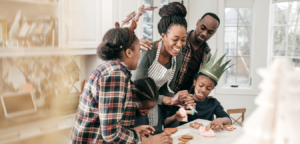 tree in the evening with my Dad, which was my favorite thing about Sundays.
And then Sunday nights, sorrow starts to set in, we are going to school on Monday. The unserious child that I was, that's when I would start rushing to wash my uniform at night, to make my hair and do my assignments….
What's your favorite Sunday tradition. Kindly share with us?

---
Reader's opinions
---